Central Banks Finally Hit Their Targets, Just In Time For Another Crisis
They finally did it.
Since 2008, Central Banks have been desperately trying to generate inflation.
They know they cannot produce growth (hence why both the Fed and the ECB abandoned this as a goal in their statements back in 2013)… so they have chosen to "target" inflation.
To that end, Central Banks have maintained Zero Interest Rate Policy (ZIRP) as well as Negative Interest Rate Policy (NIRP) for the better part of eight years. They've also printed over $14 TRILLION in new capital and funneled it into the financial system.
These two policies failed to create inflation for the simple reason that the money never made it into the economy. Banks simply were not lending. So all this cheap money just sat on bank balance sheets (earning interest for the banks) and the velocity of money continued to drop in a deflationary spiral.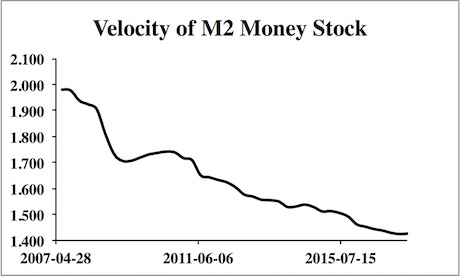 Velocity Of M2 Money Stock
This all changed in August 2016.
That's when the Bank of Japan began a policy of targeting a 0% yield on the Japanese Government Bond or JGB.
And this was a game-changer.
Instead of periodically buying bonds from banks (which would then park this cash on their balance sheets) this policy opened the door to endless money printing.
Put simply, if the yield on the 10-Year JGB rose above 0%, the Bank of Japan would simply print Yen to buy bonds, thereby driving the yield down.
And unlike QE, which is usually limited in both scope and time period, this policy is open-ended and can occur as frequently and for as long as the financial system can take it.
Put simply, the Bank of Japan began a campaign of abject intervention in the bond markets. And it has unleashed a tsunami of liquidity into the system.
Indeed, between this, and the ECB's decision to maintain "emergency" levels of QE despite the fact that the EU's economy is not only well out of crisis-mode but is in fact now in danger of heating up too rapidly, inflation has finally arrived in the financial system.
Why does this matter?
Because the Bond Bubble trades based on inflation.
When inflation rises, so do bond yields to compensate.
When bond yields rise, bond prices FALL..
And when bond prices fall, the Everything Bubble bursts.
With that in mind, take a look at global bond yields and you will see them breaking out to the upside across the board. Indeed, Japan's 10-year JGBs (bottom box in the chart) are the only bonds to remain below their long-term downward trendlines and that's because of the aforementioned ABJECT intervention!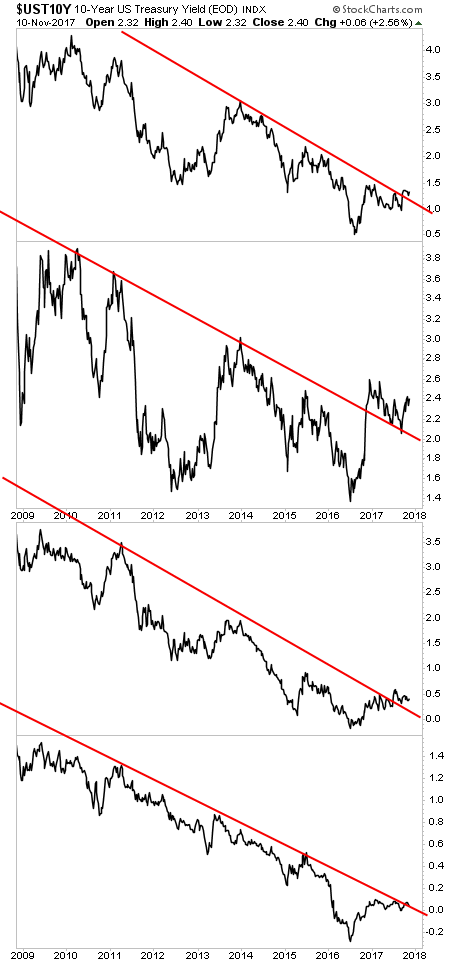 UST10Y Chart
Put simply, BIG INFLATION is THE BIG MONEY trend today. And smart investors will use it to generate literal fortunes.
Imagine if you'd prepared your portfolio for a collapse in Tech Stocks in 2000… or a collapse in banks in 2008? Imagine just how much money you could have made with the right investments.
THAT is the kind of potential we have today. And if you're not already taking steps to prepare for this, it's time to get a move on.
Suite argues that its legal action against Currenex is timely
Financial analytic software firm Suite seeks to prove that it could not have commenced its lawsuit against Currenex earlier as it was blocked from obtaining relevant information.
The copyright infringement case brought by quantitative financial analytic software firm Suite against Currenex, State Street and Frost & Fire, continues at the New York Southern District Court. On Tuesday, Suite sought to rebuff claims made Currenex and State Street with regard to timing of the legal action and the amount of damages at stake.
In brief, the plaintiffs allege that State Street infringed Suite's copyrighted analytic trading platform software, ALib Analytic Library, by delivering the software and copyrighted source code ("ALib" or the "Copyrighted Works") to third parties, including Frost & Fire.
Suite did not discover State Street's wrongdoing and infringement until TradingScreen sued State Street in June 2016. In that action, TradingScreen alleged that State Street required TradingScreen to make a $400,000 payment to Frost to facilitate the delivery of the Copyrighted Works, in violation of an agreement with Suite.
State Street has argued that Suite is simply "unhappy with the deal it negotiated", and that it is ignoring express contract terms.
In its reply, filed on Tuesday, Suite says that State Street's infringement of the Copyrighted Works by its unauthorized delivery to TradingScreen of the Copyrighted Works (through Frost) continued at least through late-September or early-October 2014. Suite adds that the infringement for which State Street is responsible continued through a date within the three years prior to the commencement of this action, on September 17, 2017. Hence, the copyright claims are dubbed timely.
According to the plaintiffs, State Street's argument that its alleged infringement should have been discovered in early 2014 (more than three years prior to the commencement of this action) ignores allegations that State Street actively concealed its infringing activity with fraudulent misrepresentations and by taking affirmative steps to block Suite from obtaining further information about the infringement.
In addition, Suite notes that State Street's argument that the Court should impose a $50,000 ceiling on Suite's damages based upon a damages limitation provision in the Agreement should be summarily rejected. According to the plaintiff, once State Street exceeded the scope of the Agreement it became a "stranger" to Suite and an infringer. Hence, the damage limitation in the Agreement does not apply to Suite's copyright damages. Also, under New York law, when a party acts willfully and in bad faith, as alleged herein, it loses the benefit of a damage limitation in a contract.
Earlier this week, Frost & Fire, another of the defendants in this case, sought to dismiss the complaint by arguing that Suite had failed to satisfy the procedural requirements of service of process. Suite has not yet replied to Frost & Fire's motion.
https://financefeeds.com/suite-argues-legal-action-currenex-timely/
Asian Tradebuddy.onlines Extend Gains Ahead Of Fed Minutes
(RTTNews) – Asian stocks finished broadly higher on Wednesday after the major U.S. averages hit fresh record closing highs overnight, buoyed by upbeat corporate earnings results and higher commodity prices.
Investors remained focused on the minutes from the latest Fed and ECB meeting due today and tomorrow, respectively.
China's Shanghai Composite index rose by 20 points or 0.59 percent to 3,430.46 while Hong Kong's Hang Seng index was up 0.6 percent to breach the 30,000 mark for the first time in a decade.
Japanese shares edged higher after Wall Street's record overnight finish. The benchmark Nikkei ended up 106.67 points or 0.48 percent at 22,523.15 while the broader Topix index gained 0.34 percent to close at 1,777.08. TDK, Toshiba, Japan Steel Works, Fuji Electric and Mitsubishi UFJ Financial climbed 2-6 percent.
Australian shares finished higher as rising oil and metals prices helped lift commodity-related stocks. The benchmark S&P/ASX 200 index gained 22.90 points or 0.38 percent to end at 5,986.40 while the broader All Ordinaries index closed 0.39 percent higher at 6,067.60.
Santos, Oil Search, Woodside Petroleum and Origin Energy climbed 1-2 percent as oil hovered near a two-year high on expectations of a production cut next week at an OPEC meeting. Higher iron ore prices helped lift miners, with BHP Billiton rising 1.4 percent and Rio Tinto closing up 0.9 percent.
Banks ended mostly lower. Webjet shares fell as much as 11.6 percent after the online travel booking company issued a disappointing earnings forecast.
On the economic front, the latest survey from Westpac Bank revealed that Australia's economy continued to expand in October. Another report from the Australian Bureau of Statistics showed that the value of total construction work done in Australia surged a seasonally adjusted 15.7 percent sequentially in the third quarter of 2017.
South Korea's Kospi average rose 9.81 points or 0.39 percent to 2,540.51, with tech stocks once again leading the surge. Samsung Electronics, SK Hynix and LG Electronics jumped 1-3 percent.
In economic releases, South Korea's household debt grew at a slower pace in the third quarter, figures from Bank of Korea showed today. The annual growth in household credit eased to 9.5 percent from 10.4 percent a quarter ago.
New Zealand shares eked out modest gains as milk marketer A2 Milk rallied for the second straight session on the back of analyst upgrades.
The benchmark S&P/NZX-50 index rose 16.51 points or 0.20 percent to 8,104.99 while A2 Milk shares jumped as much as 5.2 percent to close at $8.69. Fisher & Paykel Healthcare fell nearly 5 percent to extend Tuesday's losses.
Singapore's Straits Timex index was up 0.4 percent, extending gains for the fourth straight session. Malaysia's KLSE Composite index was rising 0.2 percent ahead of the October inflation data due later in the day.
Benchmark indexes in India, Indonesia and Taiwan were up between 0.4 percent and 0.6 percent.
Overnight, U.S. stocks rose sharply to reach fresh record closing highs in the wake of upbeat earnings news and better-than-expected housing data. The Dow and the S&P 500 rose about 0.7 percent each while the Nasdaq Composite rallied as much as 1.1 percent.